National Activity Professional's Day 2024
Friday, January 26, 2024 from 8:30 AM to 4:30 PM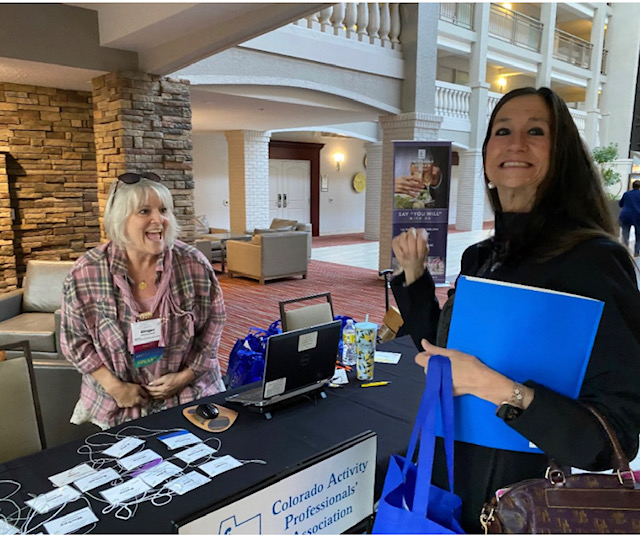 Colorado Activity Professionals' Association
Presents
National Activity Professionals' Day Workshop
Sponsored in part by
Vivage Management
Friday, January 26, 2024
8:00am-5:00pm
Vivage Management
12136 W. Bayaud Ave., Suite 200   Lakewood, CO 80228
Directions:
I-25 to exit 209 6th Ave going West
Left on Simms St. Continue onto Union Blvd
Right on W Cedar Dr
Right on Urban which becomes Bayaud Ave
Destination on the left
HAMPTON INN  $99 includes breakfast
137 Union Blvd., Lakewood, CO 80228
303-969-9900 "CAPA 2024" Block Code 
HAMPTON INN  $99 includes breakfast
137 Union Blvd., Lakewood, CO 80228
303-969-9900 "CAPA 2024" Block Code 
HOTEL LINK: TBA
CAPA NAP Day 2024 Call for Papers/Speaker Packet
The Call for Papers offers members and interested parties the opportunity to submit written proposals for continuing education programs to be offered at the 2024 NAP Day Workshop. These sessions are open to all workshop registrants in attendance, and focus on topics and issues affecting providers, residents and the activity professional who work primarily in the geriatric field.
* Due to the accreditation process, please complete all of the following submission criteria specifically and thoroughly.
First Page:
Title of Presentation - must be descriptive of content

Learning Outcomes - list objectives in measurable terms (minimum of three)

Speaker Information - name, job title, complete address, phone, fax, e-mail

Program Description - provide a description of the session to be used in the
   conference brochure, limit to 40 words
Second Page:
Speaker Credentials - Attach one-page outlining your

speaker credentials and relevant experience. Educational and academic preparation

must be included.
Third Page:
Speaker Information - Attach a brief introduction (25 words or less) for yourself and your

presentation. Your session introduction should set the tone of your

presentation. This introduction will be utilized at the start

of your session.
Fourth Page:
Presentation Requirements - Room setup, type of presentation,  
audio / visual needs. A table, cordless microphone, flip chart, screen will be available.
Fifth Page(s):
Handout Materials - If being used, handouts may be mailed with this    application or be sent four weeks prior to the workshop for duplication. CAPA will copy any handouts up to 5 pages (front and back). 
After the deadline or if there are more than 5 pages, the handouts will be your responsibility to reproduce.
RETURN TO:                                            
Debra Holmes                                            Workshop Date: January 26,2024
CAPA Education Chair                              Workshop Location: Lakewood, CO
capapandp@gmail.com 719.251.6596     Submission deadline: 11/30/2023
5955 Vinemesa Avenue  Beulah, CO  81023
* This information is what is requested by the Credentialing Agencies for pre-approval of the sessions for continuing education. Continuing education is necessary to keep our certifications current. Incomplete applications will delay the committee in making a decision of acceptance.
Name ___________________________________________
Active Member?  Yes___ or No___ Chapter (circle one):  Den/Metro Northern NE Southern WS
Lunch Options (Check One): Turkey___Ham___Roast Beef___Gluten Free___Vegetarian____
Hm Phone______________________ Wk Phone______________________ E-Mail_________________________________________
 *** If you wish to pay by Credit Card, go to www.thecapa.org  under "Events" then "NAP Day." *** 
Event Location
Vivage Management • 12136 W. Bayaud Ave., Suite200 • Lakewood, CO 80228 • US
Contact Information
Contact: Ginger Clark
E-mail: